Home
Written by

ik1hge

Category: Electronics and radiofrequency
We are now talking about a very interesting mounting kit, cheap but, unfortunately, completely undocumented. There are a few web sites managed by smart radio amateurs that make up for the lack of information while, in my small way, I am publishing some pictures of my assembly, together with some personal comments. This Chinese kit does not suite well to new bees but, if you are quite skilled with SMD components soldering, you can build the amplifier even if you are not an RF electronics specialist.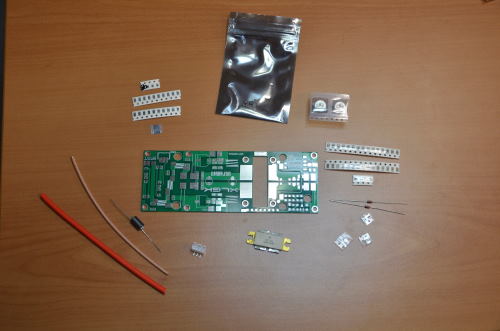 Read more: 100W UHF 400--470MHZ Amplifier Power Amplifier Board For Ham Radio DIY Kits (English version)
Written by

ik1hge

Category: News
WAIP, Worked All Italian Provinces, is probably the most popular and exciting Italian award for radio amateurs. It was estabilished several years ago by ARI, Associazione Radioamatori Italiani, the Italian amateur radio society, and it is so popular that it survided the abolition of the provinces in Italy.
Written by

ik1hge

Category: News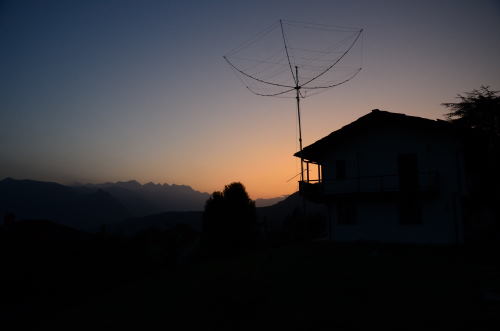 Time ago, I told you about my intention to buy a hex beam antenna. Well, I bought it. Here you are my hex beam at sunset...
Written by

ik1hge

Category: Moldova ER/IK1HGE
On Aug. 29th, 2019 I made my last QSO from Moldova for this year. QRT! It is time to send your direct QSL cards with Self-Addressed Envelope (SAE) and reimbursement for the post stamps (green stamps). You'll find my postal address in the usual places of the net.
The cost of post stamps are:
- Europe and Mediterranean sea area: 1,15 Euros (2 USD)
- Asia, America, Africa: 2,40 Euros (3 USD)  (Japan and USA, this is your case!)
- Oceania: free (I don't have so many QSOs)
By the way, the logbook is made of paper, no LotW, no Clublog, no eqsl, no OQRS, etc. I only reply to true QSL cards.
QSL cards via bureau are also ok but take into account that I can reply only once a year and that, after two years, I haven't yet received any QSL card via bureau for the 2017 activity. Therefore, I suppose that it'll take no less than 5 years for you to get my QSL card via bureau.
Have a great DX season!
Roberto
ER/IK1HGE
Written by

ik1hge

Category: Moldova ER/IK1HGE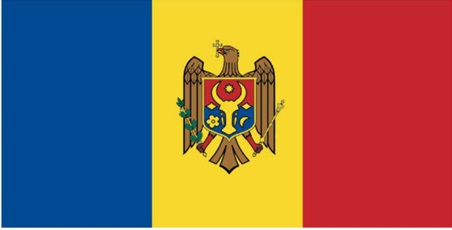 I'm going to be active as ER/IK1HGE from Republic of Moldova in August 2019 (not yet ssure about dates), on all HF amateur radio bands from 80 m to 10 m, CW and SSB with 100 W, a G5RV antenna and/or dipoles homebrewed on the field in case of need.
QSL via IK1HGE, via bureau  or direct to my italian address. Keep in mind that I can send out the QSLs via bureau only once a year, normally in October.
Be informed also that, starting this year, I'm no more immediately sending out all the QSL cards upon my return home, as I did in the past years, rather I'll just reply to your QSLs. Furthermore, I will not send back the contributions for the postage, but will use them to buy the post stamps, as well as SASEs (from Italy) and SAEs. Actually, it never happened that an italian thought to send a self stamped envelope to me, and never happened that a german thought not to send me a new IRC or 2 USDs (that I have just sent back, up to now). It must just be casuality...
IF the SASE is missing or the postage contribution is not enough to buy the post stamp, I just reply via bureau.
Since I have no PC in Moldova, my station logbook is made of paper. So, only if I have time to copy it into an electronic format, I also upload the QSOs to ClubLog, else I won't.
No LotW, no eqsl, no OQRS, no whatever other form of either real or virtual QSL service.
I plan to be active during the YO DX HF contest, presumibly sop CW. Look for me and spot my frequency, please!
Stay tuned for possible further news...
Roberto
Written by

ik1hge

Category: Notizie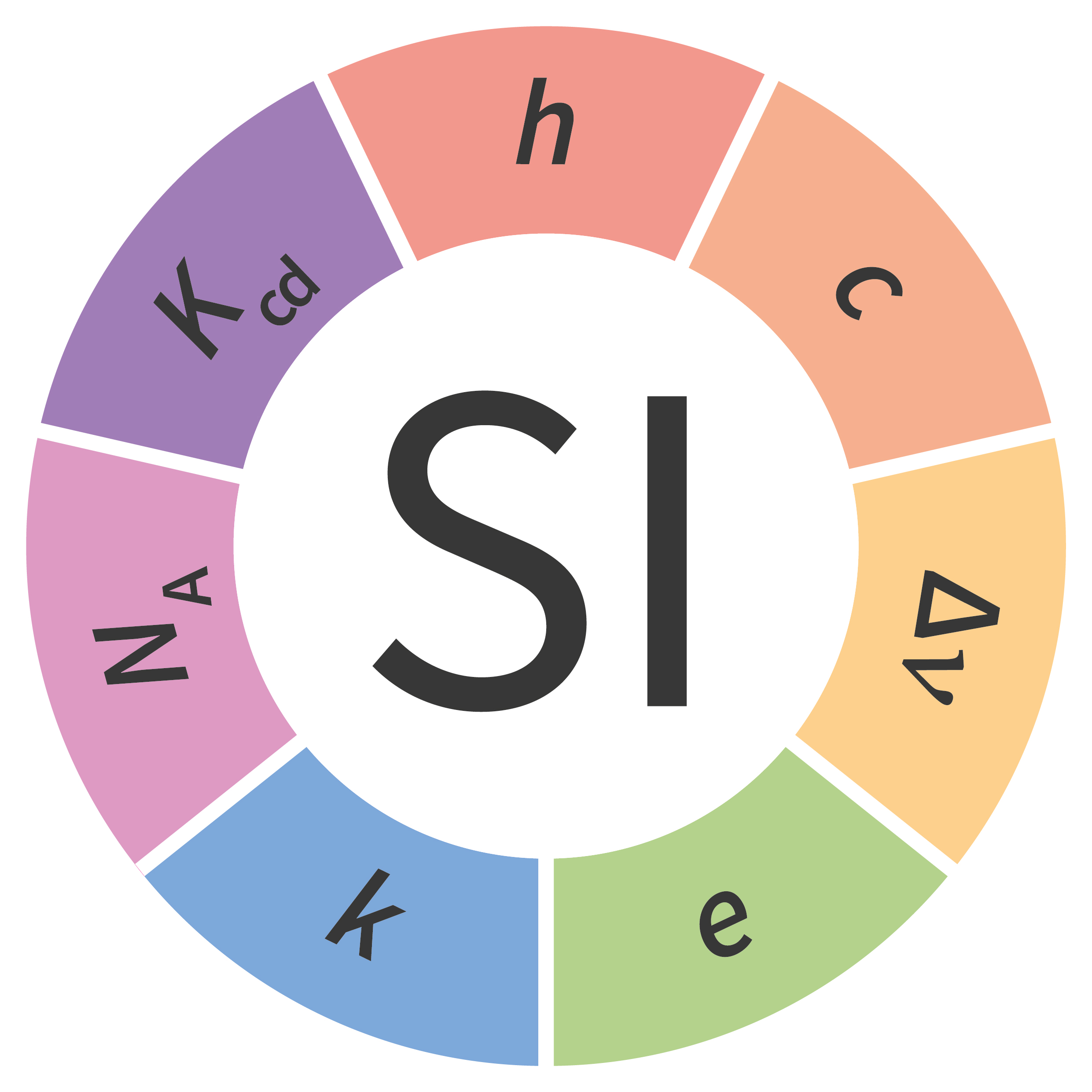 Da oggi, le unità di misura elettriche di differenza di potenziale, il volt, e di resistenza elettrica, l'ohm, sono diventate più piccole! Significa che per esprimere la stessa grandezza sarà necessario un numero più grande...
Perché il volt e l'ohm sono dimagriti?
Oggi, 20 maggio 2019, è il World Metrology Day, la Giornata Mondiale della Metrologia, cioè della scienza della misurazione. Proprio la data di oggi è stata scelta per l'entrata in vigore delle definizioni del nuovo SI, il Sistema Internazionale delle unità di misura. Il cambiamento epocale consiste nel non aver definito le nuove unità di misura basandole su degli esperimenti o delle tecniche riproducibili in laboratori specializzati, e nemmeno su dei campioni di misura materiali (come succedeva fino a ieri per il kilogrammo, il cui campione veniva conservato presso l'Ufficio Internazionale di Pesi e Misure in Francia); quelle che si sono definite, invece, sono sette costanti della fisica: la frequenza di radiazione della transizione iperfine del cesio 133 (va be', questa è un po' difficile da capire ma si chiama così), la velocità della luce, la costante di Planck, la carica elementare, la costante di Avogadro, la costante di Boltzmann, l'efficienza luminosa. Da queste costanti gli scienziati ricaveranno le unità di misura nel miglior modo possibile nel momento in cui eseguiranno l'esperimento. In questo modo, viene un po' a cadere la distinzione tra unità di misura e quelle derivate. In altre parole, qualsiasi unità di misura che venga realizzata a partire dalle costanti fondamentali potrebbe essere chiamata "unità di base", tuttavia la distinzione tra unità di base e derivate rimane per motivi di uniformità con il passato (potremmo anche dire, per tradizione…)
 Quindi le unità di base del Sistema Internazionale sono ancora:
Read more: World Metrology Day 2019 - Entra in vigore il nuovo Sistema Internazionale
Written by

ik1hge

Category: Electronics and radiofrequency
Almost all of us know that "BAL-UN" is the acronym for "BALanced-UNbalanced", thus we grasp the role of the device that bears the name of "balun" - allow to connect a generator having an unbalanced output (asymmetrical in respect to a reference), as is a radiofrequency transmitter with a coaxial transmission line, to a blanced load (symmetrical in respect to the reference), as is a dipole antenna or a lot of other kind of antennas, but not a Ground Plane one. The use of a balun let us avoid some drowbacks that would arise if we connected the unbalanced output directly to the balnced input. Actually, a balun is normally bi-directional, i.e. it allows to connect a balnced generator (the same antenna used to receive) with the unbalanced load (the coax connected to the input stage of the receiver), though this function is generally much less promoted in amateur radio litterature.
Well, let's come to the point. I've just built a choke bal-un, or current balun (with 1:1 impedence transformation ratio, i.e. it's just a balun, not an impedence adapter). I just want to share the pictures that document my work, I hope that they might be useful to someone else and, why not, that someone  will send me his comments and suggestions trough the "Contacts" module of this web site. Honestly speaking, there is nothing new in this article, I just one of the several (thousands? Millions?) realization of a HF choke. However, I'm sure that nobody would come to this misknown web site by chance, and that most of you are here because you are looking for instructions and pictures to be used as a starting point to homebrew your balun. So, read my article and also some of the other articles that you'll find around on the internet and in the litterature. I spent a lot of effort in order to make a tutoprial that suits to individuals who  don't have specific technical skills, commenting and showing all the mounting operations, including the trivial ones...
Let's build a wide band choke balun for HF, with a good hope that it'll work on 50 MHz band too. We'll realize it with 10 turns of RG-142 coax cable wound on two overlapped toroids, brand Amidon model FT240-43. Why exactly 10 turns? The choice is based on expreimental data published by G3TXQ (SK), who gave the figures for 9 turns; since 9 turns would bring to a geometrically asymmetrical realization, and also in order to compensate a part of the leakage flux due to the much higher stiffness of the RG-142, when compared to the RG-58 used by G3TXQ, which results in less tight turns around the core, I've decided for 10 turns instead of 9. This balun should withstand a power of few kW, but I would not know how to verify that, I can run only 100W
.
 Needed material and equipment: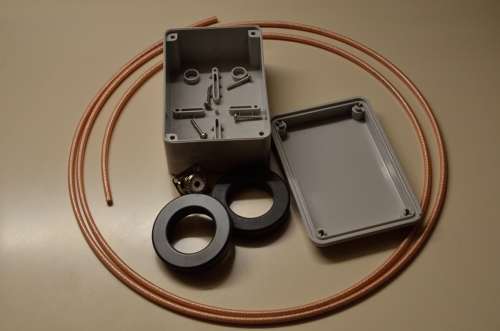 a piece of RG-142 coax, let's say about 1,3 meters. The price is between 7 and 11 Euros/m in a shop (I paied it 5 Euro/m at a fair)
two Amidon toroids FT240-43; price about 9-10 Euros each

panel mounting female UHF connector (or, if you prefer, panel mounting N type female connector); price starting from 2 Euros

Read more: HF choke balun homebrewing (1:1 current mode balun)